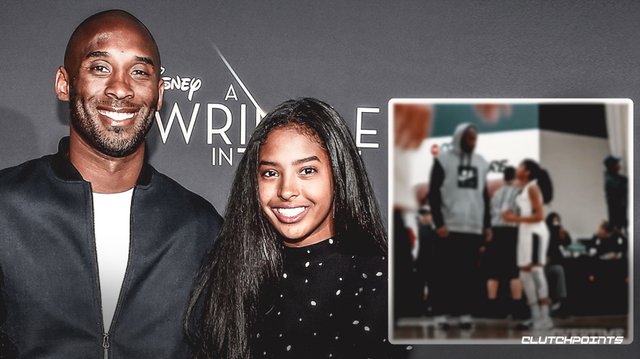 In absolute heartbreaking news Kobe Bryant and his daughter GiGi have died in an accident outside Calabasas, CA this morning. They were travelling, with another player and parent, to the Mamba Academy in Thousand Oaks, California for a basketball practice. All 4, along with helicopter pilot, died at the scene. Bryant is survived by his wife Vanessa, and their three daughters; Natalia, Bianca and their newborn Capri.
It goes without saying but Kobe was one of the greatest basketball players to ever live. While Kobe would maintain an illustroius 20 year professional career, Bryant began as a first round selection by the Lakers straight out of Lower Merion High School. Kobe would go on to amass five NBA championships, multiple MVP awards while being as a league All Star nearly every year. Kobe became the youngest player to ever score 30,000 points and still stands as one of the top 5 point scorers in NBA history. Despite those accomplishments Kobe's successes went far beyond just the court.
Kobe subscribed to a Mamba Mentality. He drove himself to excel and that wasn't just on the court. Not only was he a phenomenal basketball player but he excelled in most things he touched. He spoke multiple languages like English, Spanish and Italian. He took those smarts and spawned success from a music record deal during his early ball days to recently winning an Academy Award for his animated short "Dear Basketball" in 2018 to authoring his own book The Mamba Mentality: How I Play.
He also held amazing success in the business world. Kobe made top level endorsement deals for his brand. That led to him creating and marketing a number of brands for countless sales. That success set him up for the time he would be spending outside of the court on what many have speculated to what he considered his greatest achievements of his life, his 4 daughters. Many have memorialized Kobe to be an amazing father dedicated to his girls' success.
Gianna Maria-Onore Bryant
One of those daughters were with him on today's fateful flight. Gianna, better known as Gigi, was reportedly heading to basketball practice with her father when their Sikorsky S-76 went down. You can find tons of images of the two together. Kobe excelled at supporting his daughter and teaching her the game he loved.
In fact when Kobe left the league in 2016 he went on to coach his daughters middle school team. That coaching was paying off and Gigi had been excelling as a ball player. She could be found in leagues playing with girls already older. She was aspiring to attend the University of Connecticut to play basketball.
My thoughts and prayers are with the Bryant family. There's no words that can describe the loss they are feeling today with such a tragic series of events. The world is a darker place without Kobe and Gigi's smiles.

Media References
1.) – https://clutchpoints.com/lakers-news-kobe-bryant-daughter-gianna-bryant-balling-out/
2.) – https://sports.yahoo.com/nba-great-kobe-bryant-dies-195450137.html
3.) – https://www.youtube.com/watch?v=4gi9y3sTrXE
4.) – https://www.youtube.com/watch?v=q6iwKGA6bEs